TROY, MICH. – AUGUST 14, 2019 – Fluff & Tuff, known for their high-quality plush dog toys, and commitment to providing
dogs with their new best friends announces their 2019 Holiday Charity Toy – The Good Dog Bone.
For the past six years, Fluff & Tuff has designed and release a festive limited-edition toy as their Holiday Charity Toy. Fluff & Tuff donates 100% of their profits from the sale of the Holiday Charity Toy to various charities, shelters, and causes that benefit dogs in need.

"As the foundation of our charitable giving at Fluff & Tuff, our annual Holiday Charity is eagerly anticipated by our community of retail partners and their customer each year. We're very thankful for their enthusiastic support and anticipate another early sellout," said Ellen Lawson, Fluff & Tuff's owner


This year, Fluff & Tuff will donate all of The Good Dog Bone profits to shelters and rescues throughout the United States to provide dog food. For every Good Dog Bone sold, the profits donated will provide 16 meals for dogs.

The Good Dog Bone is one of three limited-edition toys available for the 2019 holiday season. The other toys on this year's holiday collection include Ivy Alpaca and Candy Canes (available in two sizes). The holiday toy collection joins 65+ unique Fluff and Tuff toys that fit any type of play for any size dog.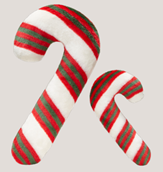 The Good Dog Bone and the holiday collection will be available at independent retailers throughout the United States.
About Fluff & Tuff:
Family-owned and operated by Chris and Ellen Lawson, Fluff & Tuff, Inc. is committed to providing all dogs happiness with high-quality pet products, and exceptional customer service to their retailers and partners. With over 65 toys for a dog to pick from, he or she is sure to find their new best friend located within thousands of independent retailers throughout the United States, Europe, and the United Kingdom.
For the most updated company news and information visit fluffandtuff.com, follow Fluff & Tuff on Instagram @fluffandtuffdogtoys or by using the hashtag #fluffandtuff.