FOR IMMEDIATE RELEASE
TROY, MICH., FEB 6, 2020 – Fluff & Tuff, known theirhigh-quality plush dog toys, has announced the donation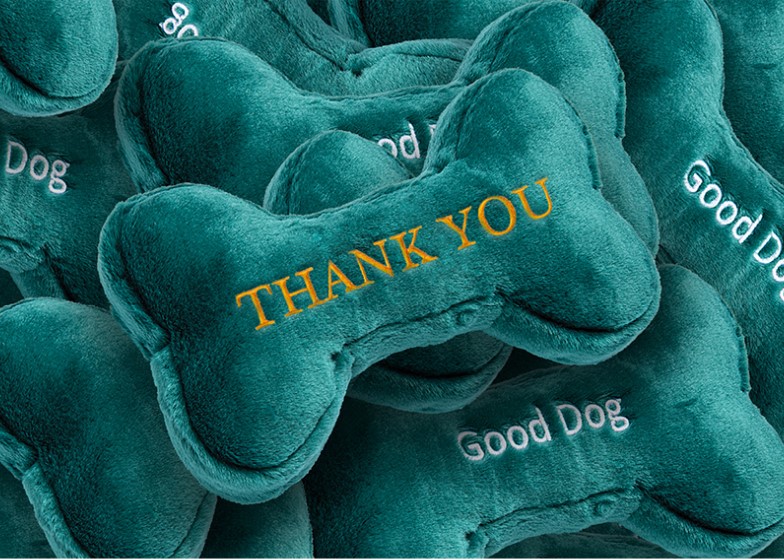 recipients from their 2019 Holiday Charity Toy campaign.
Since 2014, Fluff & Tuff annually releases a festive limited-edition toy as their Holiday Charity Toy. 100% of the company's profits from the sale of the Holiday Charity Toy are donated to various charities, shelters, and causes that benefit dogs in need.
Fluff & Tuff's 2019 Holiday Charity Toy – The Good Dog Bone – will help supply food for dogs in shelters and rescues. In total, the profits of The Good Dog Bone will bring 64,000 meals to dogs throughout the country. One Good Dog Bone sold provides 16 meals.
The recipients of Fluff & Tuff's Good Dog Bone donations include:
Fluff & Tuff's retail partners played an important role in this year's Holiday Charity Toy campaign. Not only did their passion and support for the cause help Fluff & Tuff sell out of the Good Dog Bone in record time, they also provided the recommendations for the shelter and rescue recipients.
"We're so thankful for the support from our retail partners and their customers of our annual Holiday Charity Toy. Their passion for giving back is the reason we sell out year after year," said Ellen Lawson, Owner/President. "We are especially grateful this year for their recipient recommendations as they have the first-hand experience with the shelters and rescues in their local community."
# # #
About Fluff & Tuff:
Family-owned Fluff & Tuff is operated by Chris and Ellen Lawson with the commitment to provide all dogs happiness with their line of high-quality plush toys as well as exceptional customer service to their retailers and partners. Fluff & Tuff toys can be found at thousands of independent retailers throughout the U.S., U.K., and Europe. To locate a retailer near you, visit fluffandtuff.com/storelocator.
For the most updated company news and information visit fluffandtuff.com, follow Fluff & Tuff on Instagram @fluffandtuffdogtoys or by using the hashtag #fluffandtuff.